Victoria Sharples: Offering from the River
---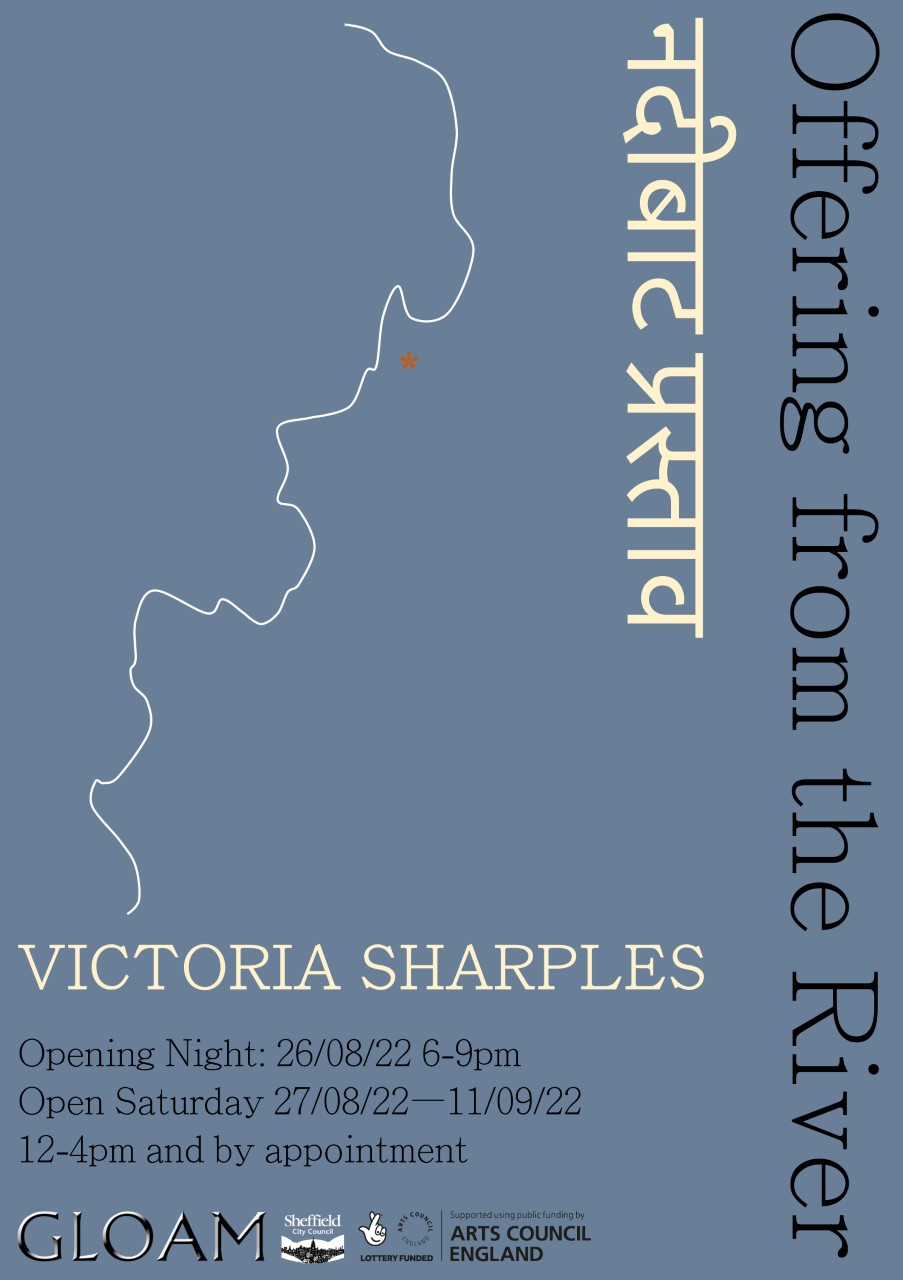 Victoria Sharples is an artist based in South Yorkshire. Their practice meditates on post-humanist performativity and ecological philosophies relative to macroscopic and microscopic matter. They often work with people and non-human bodies across spatial, temporal and lingustic situ facilitating international and interdisciplinary practice-led research projects with artists, scientists and spiritual practitioners. The works produced from this practice take the form of time-sensitive performances where video, artifacts, photography and scores record or account for the project through phonetic, numerical and audio-visual matter.

For GLOAM, Sharples presents: Offering from the River, an exhibition surveying a microcosm of spiritual and scientific ecologies. The exhibtion speculates on the permeability of biological and machinic matter through site-specific performance, laboratory readings, and a collection of artifacts. The exhibition opens August 26–September 11, and will be accompanied by an artist talk on September 3, 2022. In this, Sharples will share their thoughts on human and non-human ecologies, interdisciplinary practice and how ethics underpins collective approaches to making. Suitable for all ages (NB. Contains subtle information about cremation practices within the context of Hindu and Buddhist practices apropos Tibetan Diaspora).

August 26th–September 11th
Saturdays 12–4pm, or by appointment

Offering from the River is open as part of Out & About: Creative Weekends in the CIQ
Saturday 3th & Sunday 4th 12–6pm

Artist Talk and Q&A with Victoria Sharples Saturday September 3rd 2–3pm Suitable for 10+

www.instagram.com/victoriaemilysharples

Supported with a National Lottery Project Grant, distributed by Arts Council England and Sheffield City Council.


---
Newsletter
Instagram
Facebook
---
GLOAM is a collectively-run exhibition and studio space located in Sheffield City Centre. It was set up by Mark Riddington on Mary Street in 2017. Since 2020, GLOAM has been run by four co-directors (Stu Burke, Thomas Lee Griffiths, Victoria Sharples & Rose Hedy Squires) at 160 Arundel Street; the former location of the DIY music venue, The Lughole.

Copyright 2022 GLOAM LTD
Website designed by Sam Francis Read