Roo Dhissou: Courses for Dis-Course(s)
---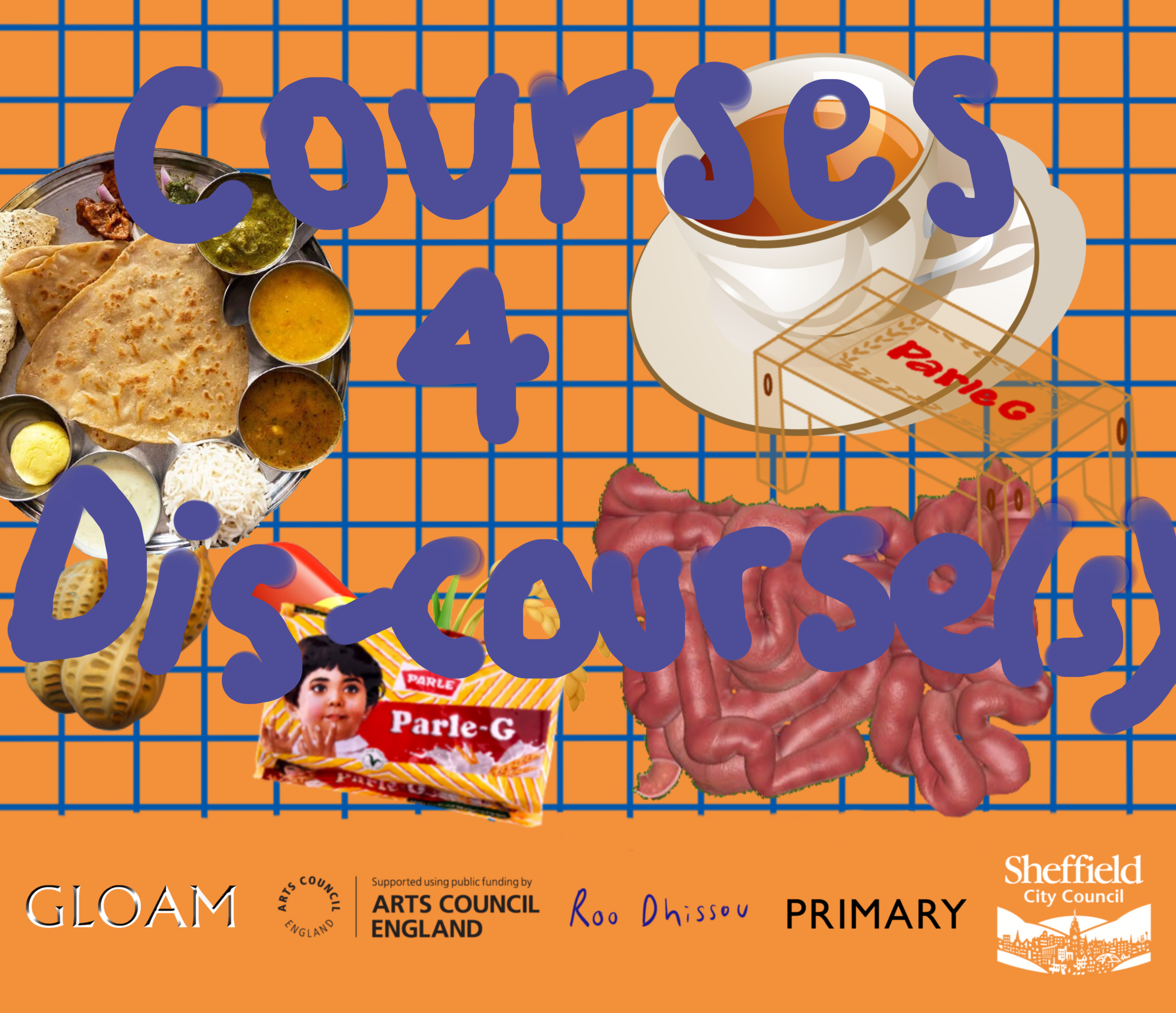 GLOAM presents: Roo Dhissou's Courses for Dis-Course(s)

In Courses for Dis-Course(s), artist Roo Dhissou conjures up a space for dining, eating, cooking and gathering that manifests in a sort of kitchen, dining room, café, restaurant, chill space. The project includes a series of exhibitions and dining events for British South Asian artists that will take place at GLOAM in Sheffield and Primary in Nottingham. Roo wants to explore who gets a seat at the table, the politics of orthodoxies, the art space, the home, the kitchen and the gallery by presenting a new body of sculptural, functional and architectural works that employ a variety of British Asian visual languages, culinary traditions and materiality.

Langar Thalis inlaid with gut health tips, Cha stations, posh tea sets, Manjis, Rugs, Yoga Mats, seed charts, tablecloths embroidered with political and theoretical texts, as well as Spotify playlists made during the course of the project will fill the spaces. Questioning how hosting through conviviality, cooking, eating together and conversation can create complex spaces for complaint, lament, bonding, stickiness, nuance, and the opportunity to be both comfortable and discomforted in our differences, similarities and oppositions. The installation will be used by visitors and animated with additional public events. A publication and podcast will be produced documenting conversations and other outcomes.

Courses for Dis-Course(s) is a programme created by Roo Dhissou in partnership with GLOAM and part of Primary's Nourishment programme, a long-term project that delves into food justice, nourishment, growing and sustainable food systems.Together along with the artist, GLOAM and Primary are working on a new form of artist-institution relationships that nurture equity and reciprocity. This project is supported by Arts Council England.

Afternoon Launch (all welcome): 1 July (12–4)
Exhibition Open: 1 July – 29 July 2023
Opening Times: This exhibition will include a mix of public and closed events and activity. Open to the public on weekends (Saturday & Sundays 12-4).

@roodhissou
https://roodhissou.com/

Curated by GLOAM Co-director Victoria Emily Sharples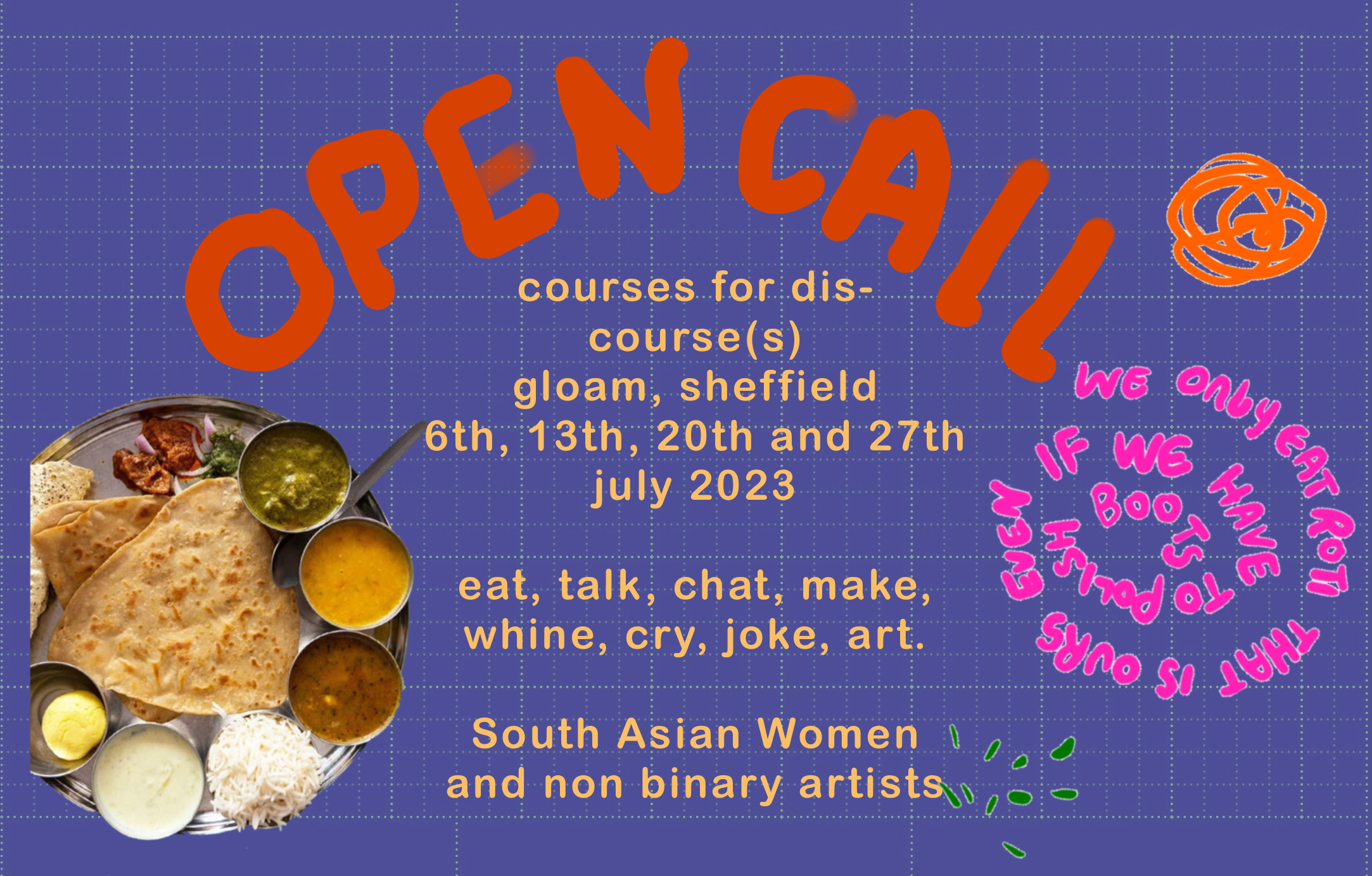 Open Call - Be part of Courses for Dis-Course(s)
WHO IS THIS FOR? 🫓
10 artists will be invited to join Courses for Dis-Course(s) as participating artists in an exciting new project taking place at GLOAM gallery.
Courses for Dis-Course(s) is the title of the socially engaged dining experiments. The Dinners will be specifically for British (south) Asian Women Artists (or anyone who identifies with this - inclusive of non-binary people and trans women). The artists must be of 2nd and 3rd generation or from the diaspora having significant time in the UK - eg anyone who's parent(s) have migrated to the UK from South Asia (inclusive of those who have migrated at first to other countries such as Uganda, Tanzania, and Kenya) or have migrated themselves at a young age. Artists must be emerging, early career or mid-career with experience of institutions, whether that is university education, galleries or museums.
Specifically, we are looking for artists for the location of Nottingham and Sheffield from areas local to Primary and Gloam galleries and surrounding areas such as Derby, Leeds, Leicester etc, artists who wouldn't normally have access to such spaces for showing work or engagement.
WHAT WILL WE DO? 🍽
There will be 4 dinners on 4 separate days over the course of 4 weeks - a dinner each week. Each dinner will be designed differently in terms of seating, food provided/ cooked and engagement. After each dinner, ephemera will be rearranged and contributed to with documentation, photography, video or sound recordings with consent. Whilst dinners are not being held, the space will be open to the public. During the dinners, the space will be made private, considering what it means to have private spaces in institutions of communities like ours.
WHAT DO YOU GET? 💷
- Artists will be paid £200 for attending all 4 dinners
- Travel to and from the gallery will be compensated
- Food will be provided at all events
- Artists will also receive a free care package of £150
- Peer group formed throughout the 4 weeks
- Entries in a publication
- Dine with artist Roo Dhissou
- Be part of a podcast
- Take up space in a gallery, meet other artists, share experiences!
To apply please email
coursesfordiscourses@gmail.com
with an expression of interest by
20th June 2023
. You will be notified of the outcomes by 27th June 2023. You must be able to attend all 4 dinners to apply. Please email the above email for any queries.
---
Newsletter
Instagram
Facebook
---
GLOAM is a collectively-run exhibition and studio space located in Sheffield City Centre. It was set up by Mark Riddington on Mary Street in 2017. Since 2020, GLOAM has been run by four co-directors (Stu Burke, Thomas Lee Griffiths, Victoria Sharples & Rose Hedy Squires) at 160 Arundel Street; the former location of the DIY music venue, The Lughole.

Copyright 2022 GLOAM LTD
Website designed by Sam Francis Read